Location: Paradise Divide Area
Date of Observation: 11/11/2015
Name: Zach Guy
Subject Natural Slab Avalanches on Baldy and Gothic
Aspect: North, North East, South East
Elevation: 10,300-12,200 ft
Avalanches: Several natural avalanches observed that failed overnight during the storm. See photos and video.
2 large natural slab avalanches on a N to NE bowl on Mt. Baldy, above treeline. They appeared to be sympathetic, with their combined start zones spanning 700 feet, and debris ran 1,800 vertical feet, almost reaching the creek at the bottom. Crowns estimated 2 – 3 feet deep. Failed on 1mm facet layer on the ground. SS-N-R2-D2-O/G
1 natural slab avalanche on the north face of Gothic Peak above treeline, failing near the ground but smaller in width and length than the Baldy slides. SS-N-R1-D1-O/G
2 natural wind slab avalanches on a SE shoulder of Baldy near treeline, estimated 1-2 feet deep and 75 feet wide, likely failed on storm interface. SS-N-R1-D1-I
Weather: Scattered clouds. Cold temps. No precip. Moderate northwest ridgetop winds with strong gusts; moderate snow transport.
Snowpack: The persistent slab structure existed above 10,700 feet on north and northeast aspects. Slab depths ranged from 40 cm up to 90 cm, above ~5-10 cm of 1mm facets. At 11,600 ft, the slab was 4F at the bottom up to F at the top. 30 cm of storm snow. The storm interface was indistinct in pits, with no surface hoar observed in several locations and no results in extended column tests. Clean shovel shears though.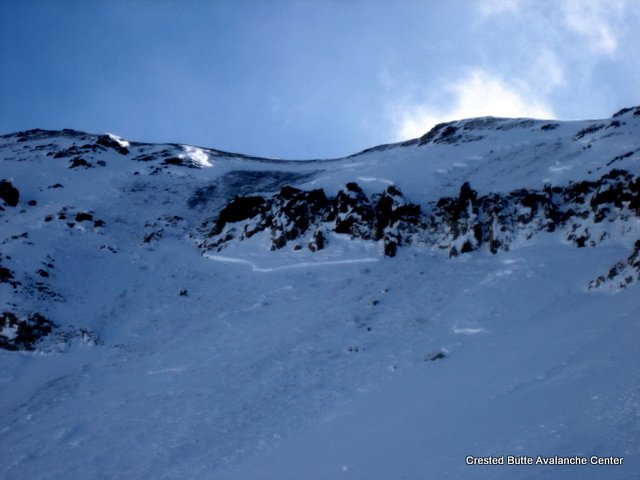 North aspect above treeline.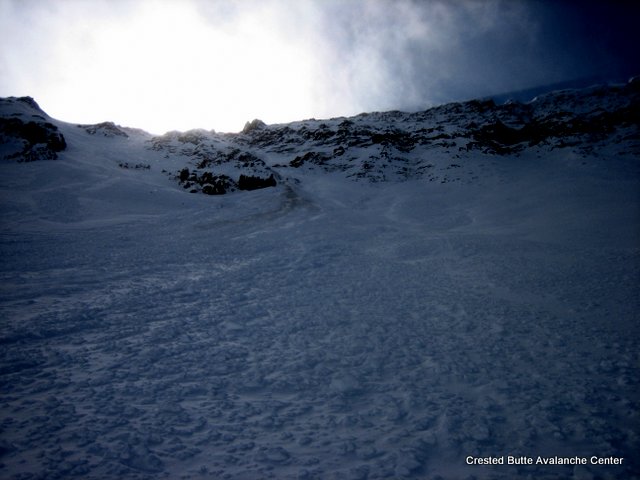 Debris ran over this rollover and almost reached valley bottom.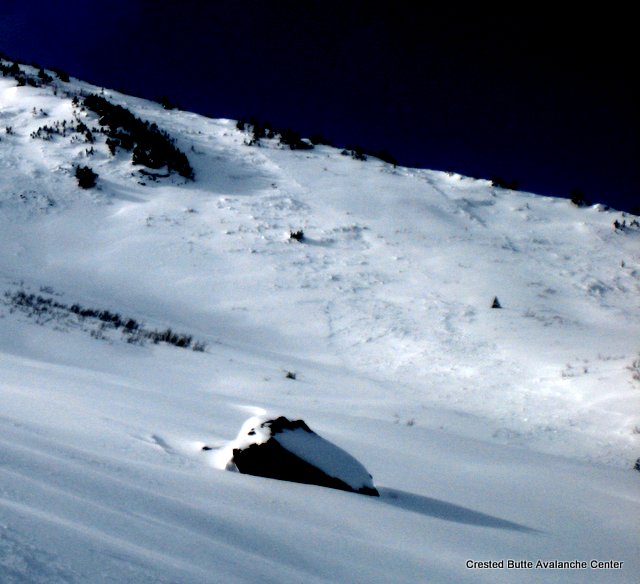 Two faintly visible slab avalanches on a SE aspect near treeline that ran mid-storm.