Location: Kebler Pass Area
Date of Observation: 01/10/2016
Name: Ian Havlick
Subject: West Brush Creek/Teocalli
Aspect: South, South West, West
Elevation: 9-11500
Avalanches: Did see 6-10 D1-1.5 dry loose avalanches off steep terrain on east, south and west terrain ATL, looking like some initiated off warming rock bands.
Evidence of many wide slides on steep east facing terrain and did observe evidence of a few west facing crowns in steep aspens that ran around xmas. Some of the crowns observed looked a little more recent…possibly wildlife triggered…
photos highlight slopes that may hang in the balance still or may re-activate with future loads in a more destructive avalanche…steep convexities slid, but more planar slopes did not…
Weather: Clear, cold with light northerly breeze with visible transport off high peaks (teo, whiterock) at times. High around 20ºF. Morning temp at TH at 10am was 2ºF.
Snowpack: Generally shallow, weak, and faceted. with average HS 50-80cm.
One pit today, 70cm, 33* slope, SW facing NTL. Ct14 SC on basal depth hoar 4-6mm, but skinned 38*+ terrain with no signs of instability. I think persistent grains definitely exist on all aspects and elevations but slab has eroded. Sledding was challenging with track augering badly in shallow snowpack, don't take your thumb off the throttle!
fresh D1.5 loose avalanche initiated off warming rock bands on SE facing steep slope on Teocalli
more recently triggered slide possibly from wildlife, East facing, BTL, West Brush Creek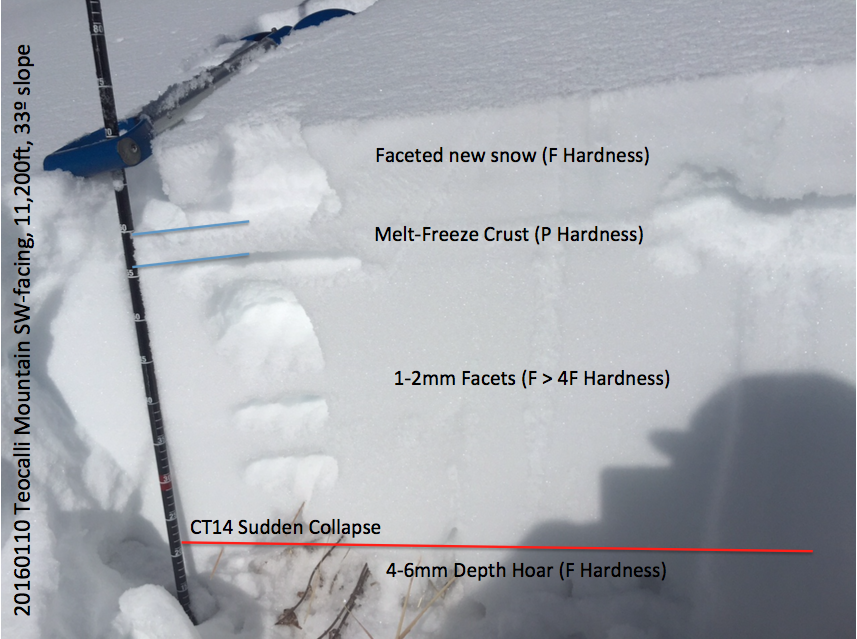 Screen-Shot-2016-01-10-at-9.14.25-PM
East facing West Brush Creek