Location: Crested Butte Area
Date of Observation: 12/07/2015
Name: Zach Guy
Subject: Weak snow on Mt. Emmons
Aspect: North, North East, East, South East
Elevation: 9,500 – 12,000 ft
Avalanches: We triggered cracking and a very small windslab avalanche, 4″ deep x 15 feet wide, on several windloaded rollovers facing SE. Also some small cracks where the persistent slab structure was shallow (<20 cm) but stiff from wind.
Weather: Scattered, thin clouds. Moderate to strong westerly winds with light snow transport at ridgetop. Mild temps, no precip.
Snowpack: In summary, widespread weak and faceted snowpack on all aspects, with decaying and unreactive persistent slabs except in isolated, heavily windloaded features. See video
Below treeline: Snowdepth is less than 30 cm, entirely faceted, fist hardness on all but southerly aspects. Ski pen to the ground. Most southeast through southwest aspects are bare, or hold shallow stacks of melt-freeze crusts with varying degrees of faceting between crusts.
Near treeline on N to E aspects: Snowdepth ranged from 40 to 80cm, with fist hard facets in the lower half, and in windloaded areas, faceting slabs in the upper half (4F hardness). No results in snow pits. Ski pen was trap-door, nearly to the ground.
Above treeline on N to NW aspects: Predominately thin snowpack due to wind erosion, <60 cm, and faceting throughout, with ski pen near the ground.  Isolated and discontinuous pockets of supportive snow with 1F to 4F faceting slabs over softer facets, similar to near treeline, but stiffer and thicker in the more heavily windloaded features.  In one crossloaded gulley, the snowpack was 100 cm deep and showed propagating test results on depth hoar near the ground.  On SE aspects ATL, we found thick, supportive crusts on steep (~40*) slopes, and an entirely faceted snowpack with thin, breakable midpack crusts as the slope angle lowered to mid 30's. No slabs on this slope.
A
bove treeline, North aspect on Mt. Emmons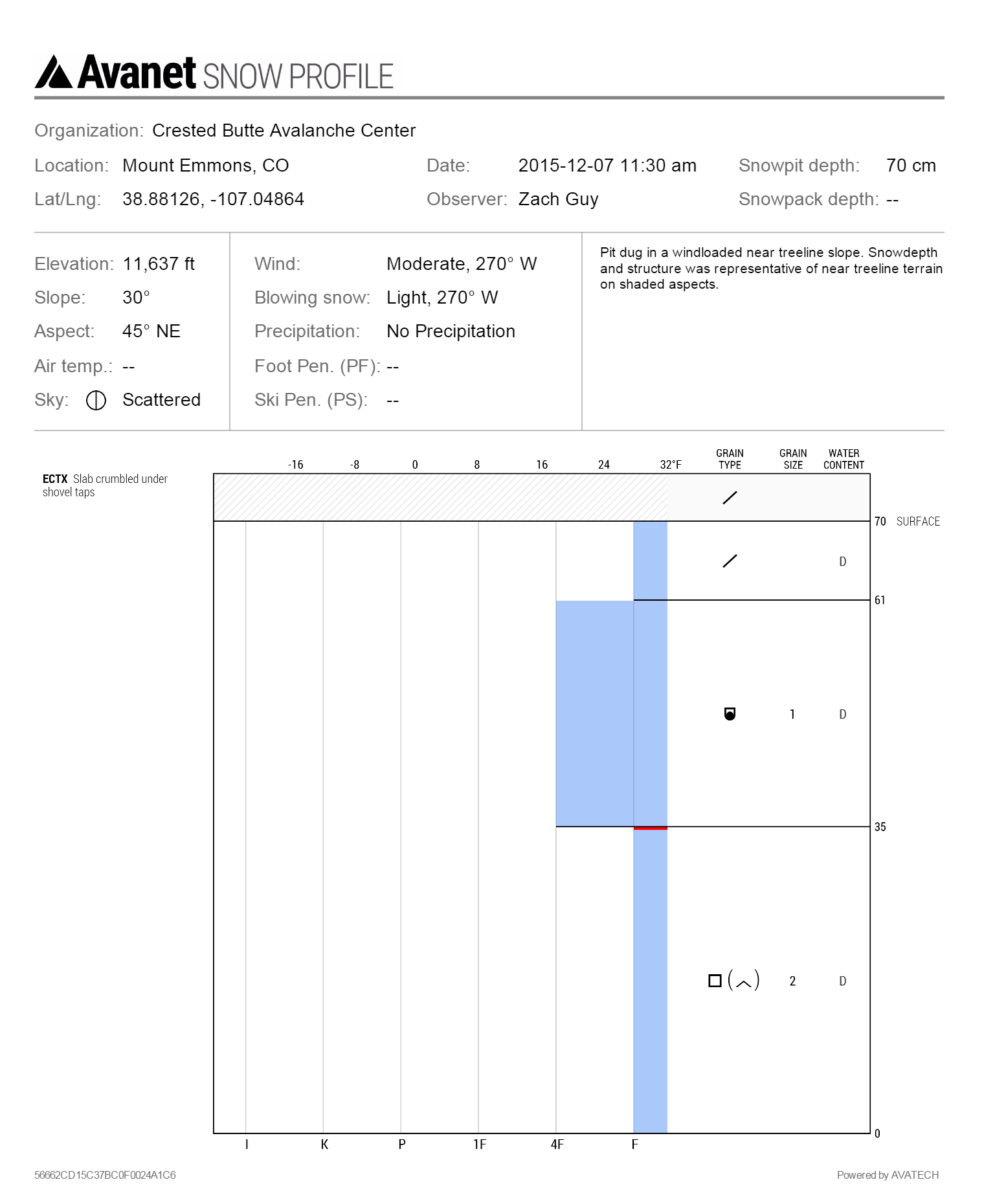 N
ear treeline, NE aspect on Mt. Emmons.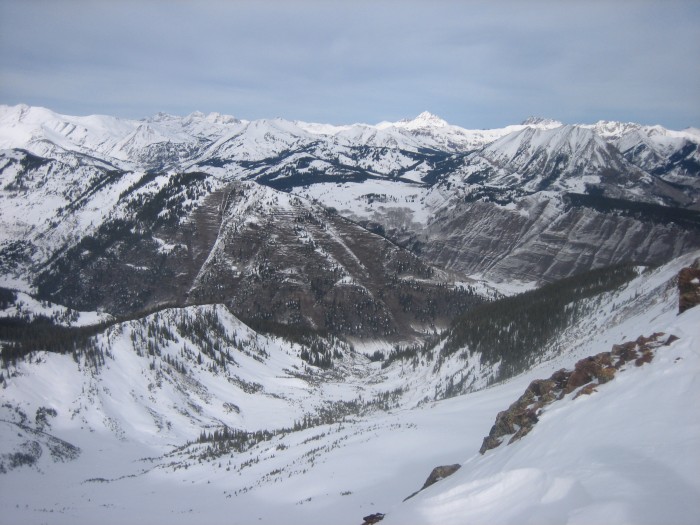 More bare slopes than snow covered on SE, S, and SW aspects below treeline, looking toward Schuykill Ridge, Anthracite Mesa, and Snodgrass.