Location: Paradise Divide Area
Date of Observation: 02/05/2016
Name: Evan Ross
Subject: Snowpack structure
Aspect: North East, South East
Elevation: 9,200-11,400
Weather: Clear skys and light winds. Blowing snow at times on Mt Emmons, Whiterock and several other high peaks. The high peaks in the upper slate river valley looked to have hanging clouds rolling in and out through the day.
Snowpack: No obvious signs to instability while traveling on all sorts of different slope characteristics and slope angles. Ski pen averaged around 20-30cm.
Below Tree Line:
Lots of previous avalanches from the last cycle. A few slopes had an obvious strong over week structure while many others had relatively uniform layering while probing with a general HS around 120cm. A pit at 9,500 on a NE aspect, about 35 degrees, showed a mostly 4f snowpack throughout. With decomposing or rounded grains sitting over 1-1.5 faceted rounds.
Near Tree Line:
Traveled through a few south to southeast slopes near ridgeline at 11,000ft. HS was around 140cm. The Jan 29th interface was down about 60cm and wasn't looking concerning. That MFcr was about 5-8cm thick with perc columns connecting to the next crust about 20cm below. The 60cm slab didn't want to budge during informal hand tests on the Jan 29th interface.
The most concerning snowpack structure of the day was on a northeast aspect at 11,350 in the start zone of an avalanche path that ran during the Christmas natural cycle. 40ish degree slope. HS was 135cm below the old Christmas crown. A 90cm F-1F slab was rusting above 4F 1.5-2mm faceted particles on the Jan 14th interface. CT 18 sudden but not planner fracture in the thick weak layer. PST 30/100 end with block sliding off weak layer. Didn't properly measure boot pen, but it was tough to not punch through the slab and into the weak layer while walking. Ski pen was in the 20-30cm range.
Avalanches: No recent avalanche observations from today.
3x SS-N-R1-D1 and 1 SS-N-R1-D1.5 on the windward side of terrain features facing southwest below treeline.
N-R2-D2? Mt Bellevue, south facing, 12,200ft, crown was several hundred feet below the ridgeline.
4x N-R1/2-D1.5 on northeasterly facing slopes below tree line.
Additional avalanche observations in the area can be seen in Zach's ob here.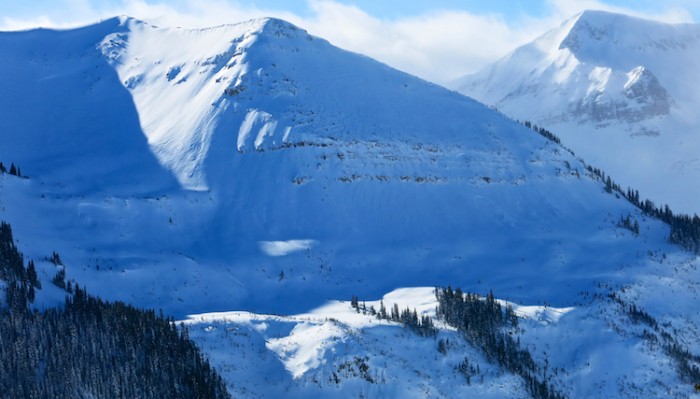 –