Location: Crested Butte Area
Date of Observation: 01/03/2017
Name: Peter Innes
Subject: Snodgrass Avalanche
Aspect: North East
Elevation: 10,700′
Avalanches: We skier triggered a soft storm slab down-ridge, just north of Snodgrass summit. I believe people call this 3rd Bowl (or maybe 2nd Bowl)?
Time: 1300
Aspect: NE
Elevation: 10,700′ (BTL)
Slope: Concave like a bowl, ranging from 38 º to 45 º at its steepest. Average angle ~40º
Size: D1.5, ran for ~150′ before losing momentum and stopping in the trees below.
Crown: 10″ deep, 30′ wide and widening to 40-50′ at flanks.
Bed surface: near surface facets
Skier was caught briefly by the slide but was carried only a dozen feet or so and not buried. This slide took us be surprise, although in hindsight it shouldn't have given the slope angle. We skied slopes BTL up to 35º with no signs of instability; the storm slab seemed incohesive and didn't produce results in a column test. This was certainly a wake-up call and a free lesson in decision making/terrain management. It would have been easy to stick to
Weather: Moderate snow and winds all afternoon, temps hovering around 20 degrees F for most of the day. Skies partially clearing late in the afternoon with snowfall tapering momentarily.
Snowpack: Storm totals (since Sunday) are just under 20″ in the Gothic/Snodgrass zone as of Tues night. Storm snow falling mostly on near surface facets on NE aspects but with minimal apparent instability. As noted a day prior, storm snow on S aspects NTL (shoulder of Gothic Mt) was bonding poorly to a significant crust.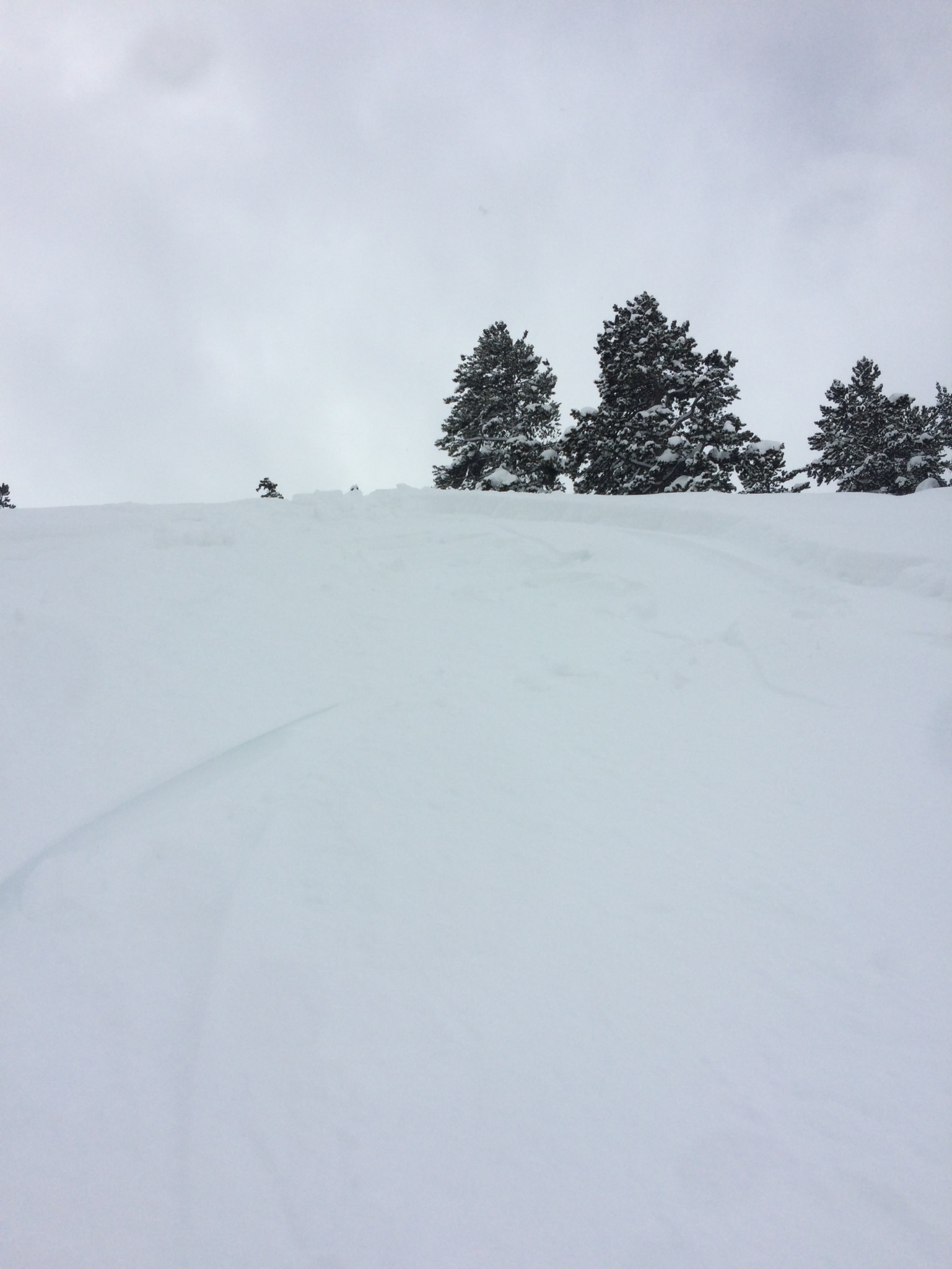 IMG_0077
IMG_00771