Location: Paradise Divide Area
Date of Observation: 12/21/2015
Name: Ian Havlick
Subject: Slate River Avalanches
Aspect: North East, East, South East
Elevation: 9000-10500
Avalanches: One skier triggered slide, then triggered hangfire adjacent that pulled out into 25º terrain. 65cm deep slab. Classified SS-ASu-R2-D2-O when combining both initial slide and hangfire triggered slide.
Numerous natural avalanches observed on N-NE-E-SE facing slopes at all elevations size 2-3.5 (some basin wide-Peeler). Only 1 storm slab observed on any kind of westerly tilt today (SW facing slope).
Weather: Partly cloudy, residual instability produced trace while skiing. 15″ new snow overnight, 25″ last 48hrs. No significant wind BTL, light WNW wind near and above treeline. Low 20s.
Snowpack: 15″ of new snow overnight (guessing 6% density) was almost hard to believe, as all ski and sled tracks from previous day were wiped clean. Trailbreaking was difficult for those that were out early (thanks JS and AH!!) . 65cm (25″) new snow last 48hrs. Driving up Slate below Schuykill NW wind texture was apparent, and each gully was crossloaded. 5-7mm Surface hoar found in 3 pits on varying aspects (E-NE-ESE), 65cm deep (preserved by new snow). 2-3mm depth hoar present but unreactive. All snow stability tests showed ECTN… Prop Saw tests should be in order to test basal weaknesses as any kind of shovel tapping may lead to false-stable results with fluffy pow.
Slide10
Slide09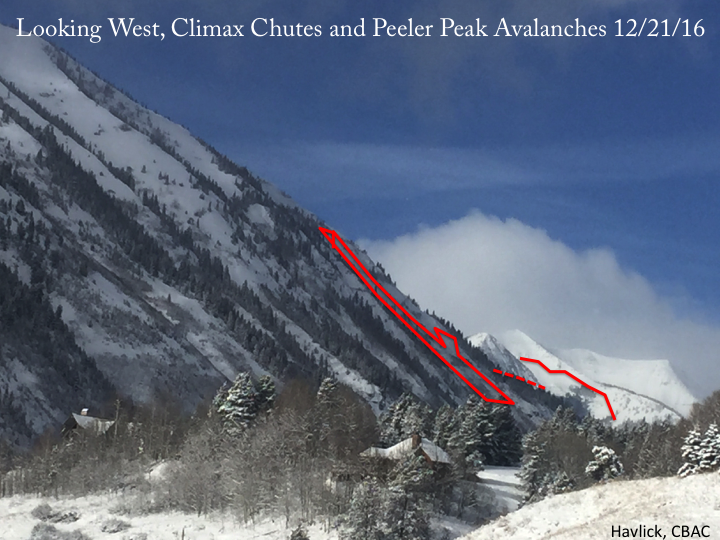 Slide08