Location: Paradise Divide Area
Date of Observation: 01/15/2016
Name: Zach Guy and Brian Lazar
Subject: Schuylkill Ridge
Aspect: North East, East
Elevation: 9,200-11,300
Avalanches: On a NE aspect NTL, we kicked a small cornice that triggered a loose snow avalanche gouging into old facet layers and ran 1,100 vertical feet. Given the gulley feature it ran through, the slide could have injured or buried someone. L-AC-R1-D1.5-O. No other avalanche activity observed.
Weather: Overcast decreased to broken skies. S-1 snowfall in the morning. Moderate SW ridgetop winds, with light snow transport. Plumes from NW winds observed on Mt. Emmons as we left the trailhead in the afternoon.
Snowpack: 5 cm of storm snow over a widespread near surface facet layer. Minimal wind affect below leeward ridgelines, with drifts 10-15 cm. New snow was noticeably more wind affected mid to lower on the slope from cross-loading down valley winds. Observed drifts up 25cm thick with cracking up to 10 feet on steep rollovers, but no avalanches. HS in old refilling avalanche paths was 50-80cm. More a like 120-150 in areas that didn't avalanches, but there weren't many paths in this area that didn't run. Most of the terrain avalanched during Xmas cycle leaving only weak snow 50-80 cm and almost entirely facets, with 5cm of new snow on top. Just below ridgelines the drifts the suspected wind slabs avalanche problem was not there. Suspect there are stiffer wind-drifted slabs near Kebler that got more snow to move, and also up ATL where winds were stronger.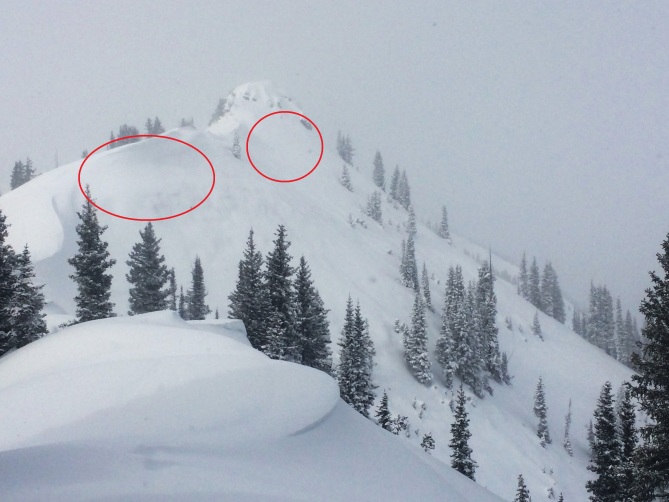 NE aspect near treeline on Schuykill Ridge. The red oval indicates areas we thought we would find developing wind-drifted slabs, but there was little wind affect up near ridgeline.   Surprisingly more wind affect closer to valley floor from down valley crossloading.
Looking into the narrow gulley where a Loose Dry avalanche plunnged 1200 feet. Schuylkill Ridge 1.15.16