LOCATION: Crested Butte Area
DATE OF OBSERVATION: 03/04/2015
NAME: Berardo / Hickey / Myall
SUBJECT: Remote triggered slides in Edge, Staircase
ASPECT: North East
ELEVATION: 10775
NOTE:  KEEP IN MIND THAT THESE AVALANCHES WERE IN UN-OPENED (CLOSED) TERRAIN.
AVALANCHES: Avalanche control route starting at 11:26 A.M. covering High Life, Edge, and Staircase.
In the High Edge, a SS-AR-R3-D2-G avalanche was remotely triggered as patrollers were moving across the top of the Edge. Slide propagated up the ridge along the start zone some 300′ as one of the party stepped into unconsolidated snow. 3.5′ crown running on the ground. No avalanche control work had been conducted in this area since January 21.
After triggering this slide, the group moved into the Staircase, throwing five explosives in the area of our typical event start gate. This area had been boot packed twice early in the season, an apparent success of our boot packing program. As the group moved into the right side of the Staircase (Tom's) they remote triggered another avalanche. SS-AR-R2-D2-O with a 2′ crown. This area was ski packed on Jan. 28, Suspected failure on buried surface hoar layer.
Moving further right in Staircase, the group triggered a SS-AS-R3-D2-G in Dead Bob's. This was triggered with ski cut, resulting in a 3′ crown running on facets at the ground. This path had already slid to the ground on Jan 24 with a 6# air blast.
Photo is of the remote triggered avalanche in Edge,
WEATHER: Sky Cover: Scattered; 5 degrees F. at 9:00 A.M.; Peak gust SW at 56 mph overnight.
SNOWPACK: 65″ Snowpack Depth at bottom of High Lift. 6″ new with .08% density and .5″ water. Storm total 33.5″
UPLOADS: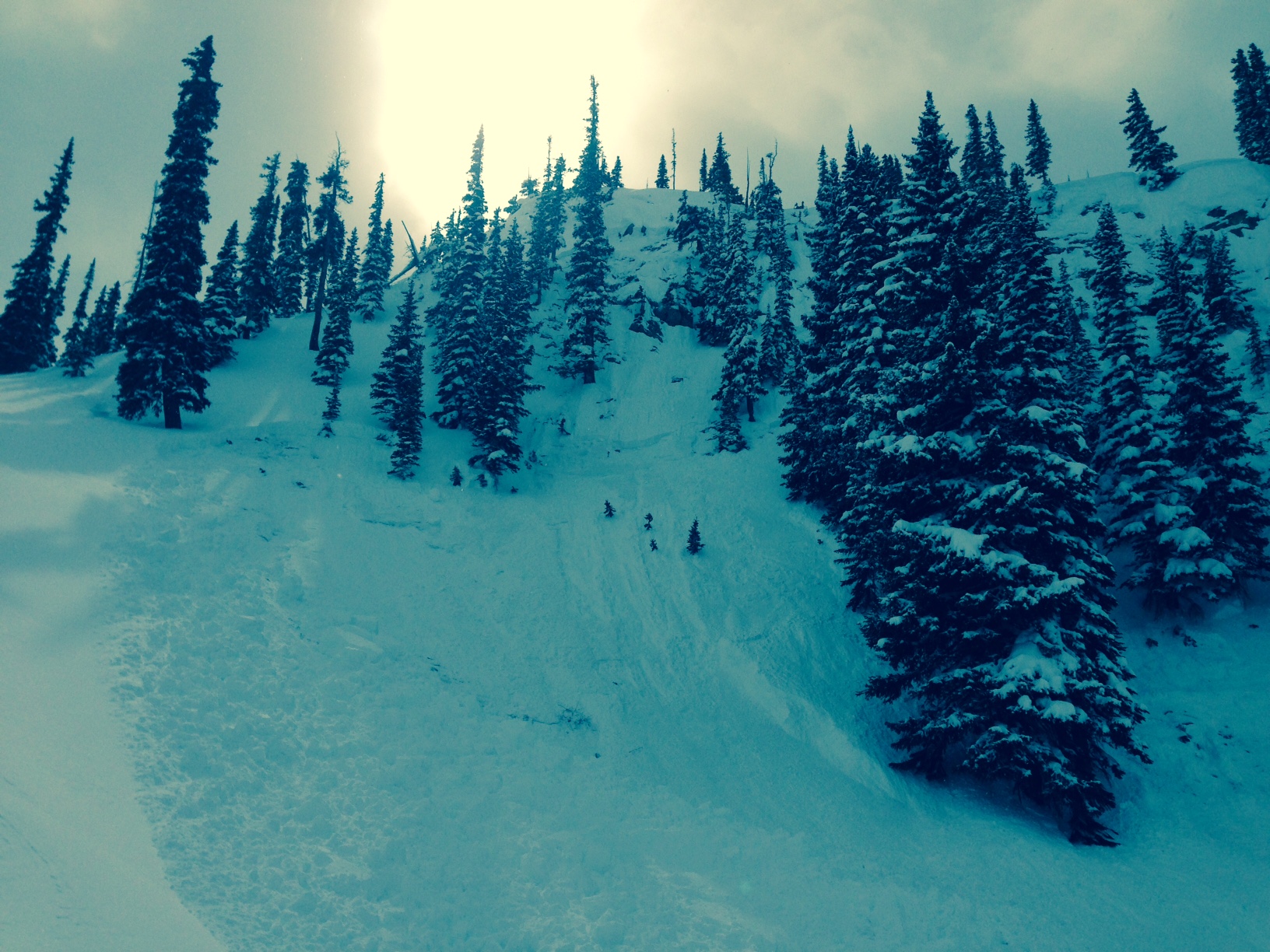 Edge-Avy