Location: Paradise Divide Area
Date of Observation: 03/08/2016
Name: Zach Guy
Subject: Remote triggered slide in Ruby Range
Aspect: North East, East, South East, South, South West
Elevation: 9,600-12,500
Avalanches: See video. Remotely triggered a soft slab 18" thick on a northeast aspect above treeline as I was stepping out of my skis to dig a pit on a low angle slope. Heard a large, rumbling collapse and the slide failed ~300 feet up slope. SS-AFr-R2-D1.5-I. Had good views of a lot of terrain from up high, and spotted a handful of natural loose snow and soft slab avalanches from Sunday night's storm, almost exclusively on NE to NW aspects, and mostly N/ATL. All slab avalanches are shown in photos below. Two slabs showed impressive propagation given their slab depth. I assume all of these ran on the storm interface, roughly 10-15" deep. Saw a couple small wet loose run today on SE aspects NTL.
Weather: Relatively cool temps up high. Light SE winds switched to light West winds, no transport. Clear skies built to scattered cumulus by mid-day, and decreased again in the afternoon.
Snowpack: Near and above treeline, 35 to 45 cm of dense storm snow (F+ to 4F-) was fairly evenly distributed across the terrain with some previous and relatively minor wind transport from SW winds. Anywhere that this snow was on a crust (E to S to SW aspects traveled), I was not able to produce any signs of instability on steep slopes or suspect rollovers, with ski cuts or stomping while skinning. Got ECTN or ECTX results on this interface, and Moderate Q2 failures in compression tests. (tested S and E aspects ATL). East aspects held a fairly thick crust at this interface (2-4" thick), with large facets below interrupted by some percolation columns (ECTN results on this layer). I was worried about this structure as the slope tilted towards ENE and the crust became softer and thinner. On NE aspects the storm snow was over ~1mm near surface facets above and below a thin wind crust. Snow surfaces became moist on SE to S to SW aspects today at higher elevations, with some minor rollerballs above treeline in rocky terrain and a few small wet loose near treeline.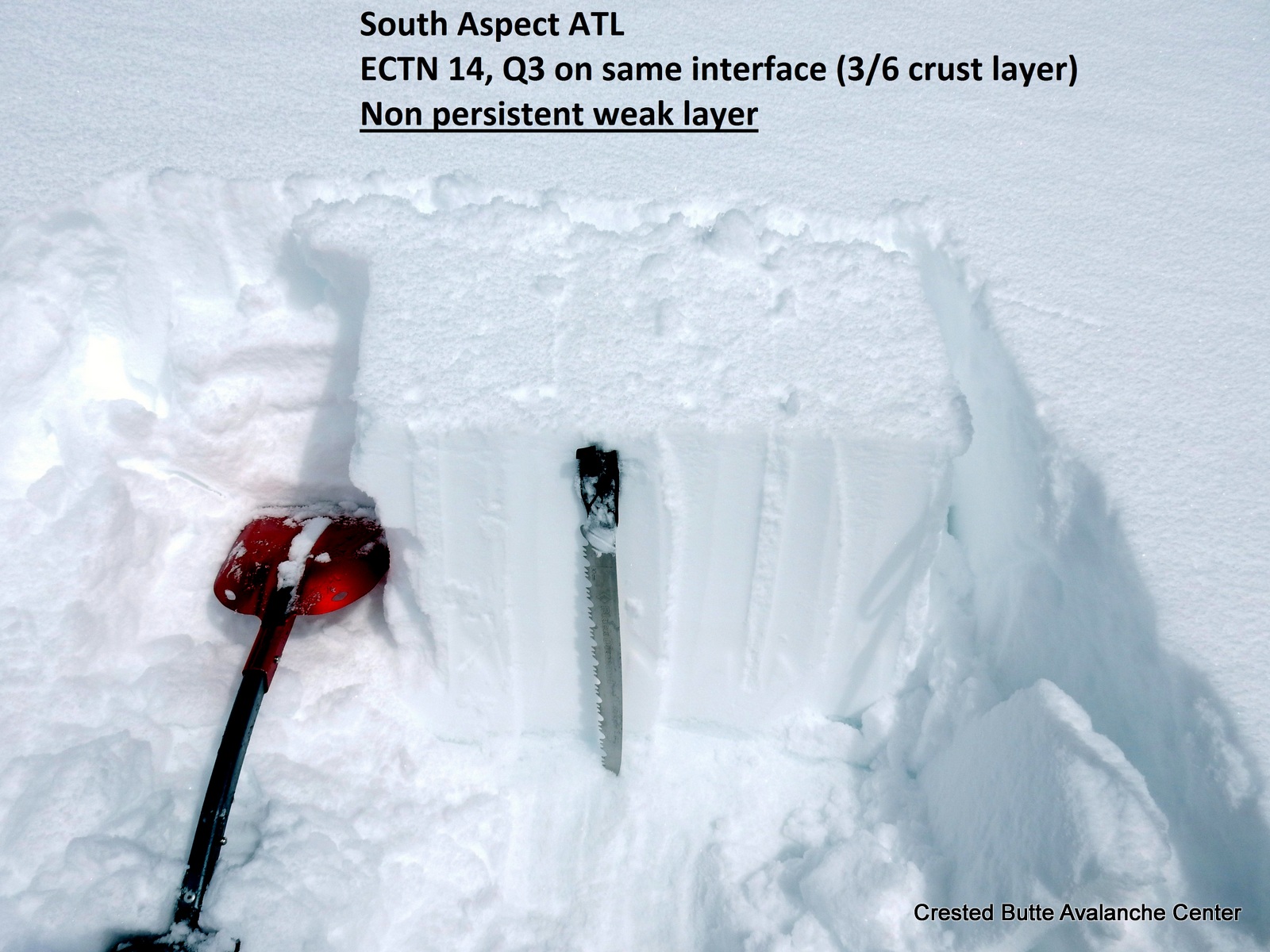 Extended column test on a South aspect ATL