LOCATION: Kebler Pass Area
DATE OF OBSERVATION: 01/18/2015
NAME: Zach Guy
SUBJECT: Kebler Pass Area – Windslabs and wet loose
ASPECT: North East, East, South East, South
ELEVATION: 11,000 – 13,000 ft
AVALANCHES: Two fresh windslabs off of SE face of Ruby, and 2 fresh debris piles below the east face of Owen (presumably also windslabs, but didn't see the start zones), all relatively small, D1 to D1.5. The windslabs on Ruby were roughly 100 feet wide and 8″ to 12″ thick. SS-N-R1-D1.5-U. Saw one snowmobile triggered windslab on a small, windloaded terrain feature, E aspect ATL, up 10″ thick.. SS-AM-R1-D1-I, We skier triggered a wet loose avalanche on a south aspect that picked up a fair amount of snow by the bottom, running on the Jan 11th crust. . WL-AS-R1-D1.5-I
See photos.
WEATHER: Moderate westerly winds. Few clouds. Warm.
SNOWPACK: Above treeline on south aspects, the snow surface is melt-freeze crust. The Jan 11 meltfreeze crust is thick and supportive, with about 4-6″ of dry to moist new snow above it and a ~1″ thick MFcrust at the surface. East and Northeast aspects held dry snow, with the surface mostly wind crusts, and a few patches of softer, rippled faceted snow. Pockets of denser, thicker, windloaded snow.
UPLOADS: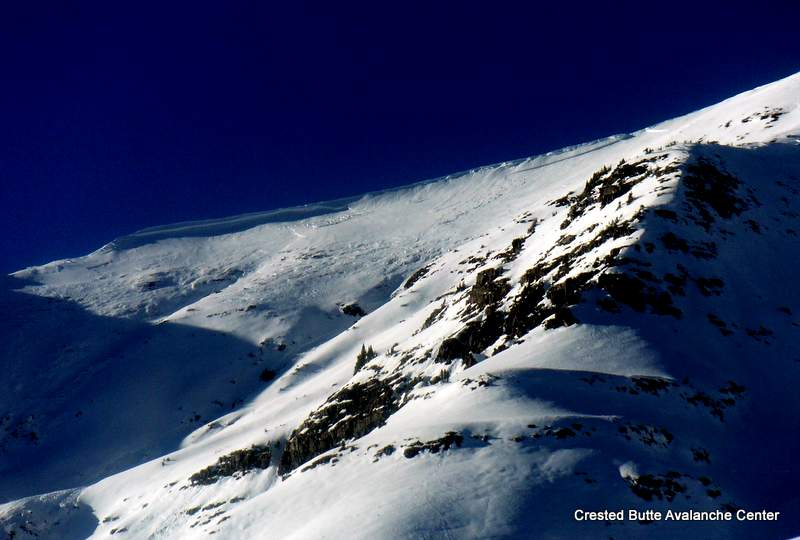 DSCF5517-001
DSCF5516-001
DSCF5510-001