Early Fall Travel Advisory September 2020
In anticipation of a dramatic change in weather for early September, the Crested Butte Avalanche Center is issuing an updated fall travel advisory for hikers, hunters, OHV users, and other outdoor recreationalists that will be affected by an early, and surprisingly potent winter storm dropping south out of Canada over the next 24-48hours. Short range forecast models are showing heavy snow, strong winds, and low temperatures in the teens developing early Tuesday morning, with precipitation continuing into Wednesday. Total accumulations look to range from 8-12" with higher amounts possible in the surrounding Crested Butte backcountry. Heavy snow and strong winds have the potential to make backcountry roads and trails difficult to impassable with drifting snow, low visibility and broken trees. Users planning travel this week should be prepared for winter-like temperatures, strong wind, and heavy snowfall.
Although avalanche concerns should remain minimal as most snow is falling on warm surfaces, the age-old adage still rings true. If there is enough snow to ride, there is enough snow to slide. Avoiding steep terrain, and slopes that still hang onto summer snow will reduce your exposure to any developing avalanche conditions. Lee and cross loaded terrain features may accumulate surprisingly deep snow-drifts, and create difficult and dangerous travel. When in doubt, delay planned travel or defer to lower elevation options where snowfall will be less.
This fall travel advisory will be updated by the CBAC forecast team as conditions warrant throughout the fall. Look for more events and regular, daily avalanche advisories in November. Thanks for your support and enjoy this welcomed blast from Old Man Winter!
---
Storm Instabilities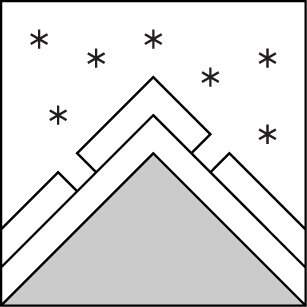 Anytime a slab of new and/or windblown snow forms, anticipate touchy storm slabs during and shortly after the storm.  New snow can become more reactive as the sun comes out immediately after the storm and fresh snow quickly consolidates into a more cohesive storm slab. Expect leeward and cross-loaded features at higher elevations to hold thicker and more sensitive slabs following a storm accompanied by strong winds. These kinds of instabilities are generally short-lived during the springtime but can last for several days after the storm on shaded aspects or higher elevations. The best strategy to handle storm instabilities is to monitor how much snow accumulates during a storm and ease into small and manageable terrain until you've assessed how large and how sensitive new slabs are. Be wary of wind-loaded slopes and avoid heavily wind-loaded features following a significant storm. You can monitor snowfall and wind data at our
weather stations page
.
Wet Avalanches

When the sun (or rain) comes out after a storm and moistens the new snow, loose wet avalanches become frequent on steep slopes, especially near rocky terrain.  This Loose Wet shedding is most pronounced on the first significant wetting after a storm.  These point releases typically fan out and entrain all of the new snow down to previous crust layers or ground. These are usually small and predictable but can carry significant mass after a large storm or in terrain with significant vertical relief. During intense or prolonged warmups, they can gouge deeper into the snowpack and produce larger, full depth wet loose avalanches. Wet slabs can be a larger, less predictable, and more dangerous problem. These are caused by liquid water percolating to and compromising the strength of buried weak layers. The size of wet slabs failing on buried weak layers could be large if they become dramatically wetted. Wet slabs are most likely to occur following multiple nights without a refreeze and subsequent warm days.  Wet avalanche danger is typically lower in the morning and rises through the day. The best strategy for handling wet avalanche problems is to exit avalanche terrain early during warm, sunny days or avoid steep terrain during rainy days or when the snowpack did not refreeze overnight. Look for evidence of fresh wet avalanches, pinwheels, or rollerballs on similar slopes to clue you into decreasing stability. Monitor mountain temperatures on our 
weather stations page
 and expect cloudy nights to inhibit the quality of refreeze.