Name: Evan Ross
Location: Conies, Washington Gulch
Date of Observation: 12/30/2014
Aspect: North East, East
Elevation: 9,900-10,900
Weather: Overcast, a few vary light snow flurries, cold, calm wind.
Snowpack: At the top of the bowl in the middle/open area, found a 10-12″ wind slab on top of lower density storm snow that didn't produce any results while skiing. Most upper sections of the bowl had a nice supportive persistent slab with boot top ski pen. Lower areas of the bowl the slab with both thiner and softer. In this lower half we got numerous collapses and shooting cracks. One collapse while skinning up the skiers left side of the bowl remote triggered a D2 persistent slab from 600ft away. In this area the persistent slab was reactive on the 12/13 interface and below this interface was generally one layer of weak facets to the ground. HS for the lower and weaker sections of the bowl was 70-90cm, while up higher in the bowl the HS was 100-120cm.
Avalanches: While skinning, remote triggered a D2 persistent slab from 600ft away. SS-ASu-R1-D2-O. Likely failed on the 12/13 weak faceted interface and gouged through more weak facets to the ground. Crown was 2-3ft tall, 160ft wide and debris ran about 700ft in length. Start zone slope angle estimated between 36-38 degrees.
Uploads: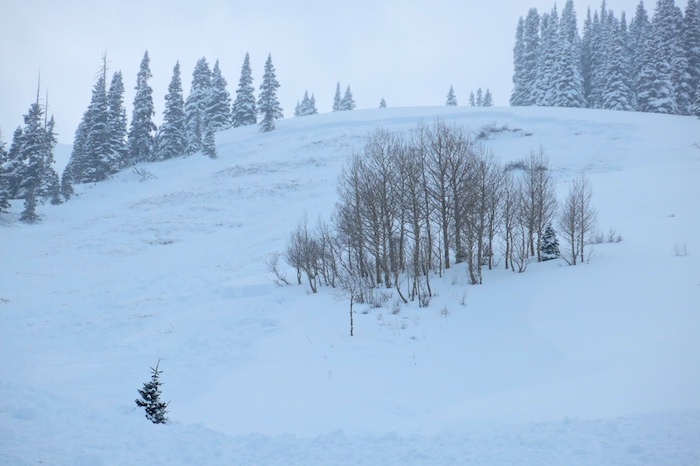 IMG_0147