Location: Kebler Pass Area
Date of Observation: 02/19/2016
Name: Zach Guy
Subject: Cornice triggered Persistent Slab
Aspect: North East, East, South East, South West, West
Elevation: 10,000-12,000
Avalanches: 2 natural wind slabs that ran during last evening's storm. SS-N-R1-D1-U. One on the NE face of Mt. Owen ATL, about 10-15″ deep and ~200 feet wide, and another on a heavily cross-loaded slope on Mt. Axtell, NE aspect below treeline. Looked about a foot deep and 20-30 feet wide. Most notable is a recent persistent slab that was triggered by a very large cornice fall sometime in the past 3 days. The cornice was about the size of a school bus, and the slab was estimated 2-4 feet deep, failing in a cliffy area below Scarp Ridge, E/NE aspect ATL. SS-NC-R1-D2-O. Maybe a hard slab?
Weather: Thin few to scattered clouds. Light west winds, no snow transport.
Snowpack: We got dusted. Drifting patterns are obvious from the color scale of snow: white snow indicates scoured snow; tan snow indicates drifted or pressed snow. Most west and southwest aspects were completely blown out back to Feb 18th crust. On E and SE aspects N/ATL and isolated cross loaded pockets elsewhere, we found ~3″ of pressed or cross loaded snow over the Feb 18th crust, from 4F to 1F+ hard. Appears to be bonded well to the crust; no signs of instability except one crack where there was a mid-storm graupel layer. Dozens of downed trees from the wind event.  On many slopes, stacks of old crust layers were peeled back by last evening's winds, giving the illusion of widespread crowns. Very small wet loose and rollerballs below treeline to about 9,500 ft, indicating the rain line was around that elevation.  No signs of rain at or above 10,000 ft.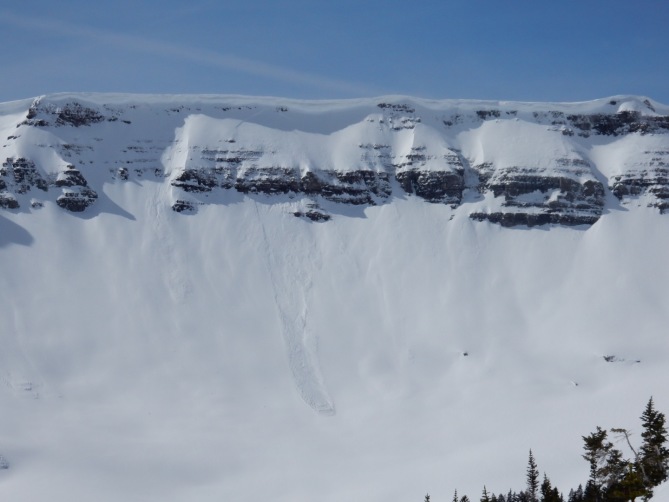 P
hoto of the same slope taken 2/16, with large cornice above.