Location: Crested Butte Area
Date of Observation: 12/09/2016
Name: Ian Havlick
Subject: Axtell/Green Lake
Aspect: North, North East, East, South East, South
Elevation: 9200-10500
Avalanches: no avalanches observed aside from small, 40'x40′ windslab on steep convex roll test slope (see photo). Predictable cracking off skis in steeper terrain on NSF 10-20cm below surface.
Weather: Mostly cloudy to obscured all day, light snow tapered to flurries early afternoon. Light to moderate WNW winds all day, increasing in the afternoon. Total snow accumulations 4-5″. Temperatures were balmy, 25-28ºF.
Snowpack: Variable snowpack between bare ground and 130cm, with average snow depth 75cm on northerly terrain, 50cm on south facing in terrain travelled today (N/BTL). Winds were lightly transporting snow into 10-20″ windslabs on lee (E-SE facing) terrain. Cracking and localized collapsing up to 25ft away on both friable suncrusts and 1-2mm near surface facets formed by recent cold snap. Near the ground the snow and facets are still weak, but not as weak as near surface facets midpack. Snowpack was 1F hard, moist, small grained facets near ground. Bottomline: biggest concern is buried near surface facets under snow in last 24hrs. Gonna need l~1″ of water in 12-24hrs to see widespread avy cycle where we travelled today. Surprisingly weak structure.
shooting crack between people.
skier triggered windslab on small, but steep, east facing, below treeline test slope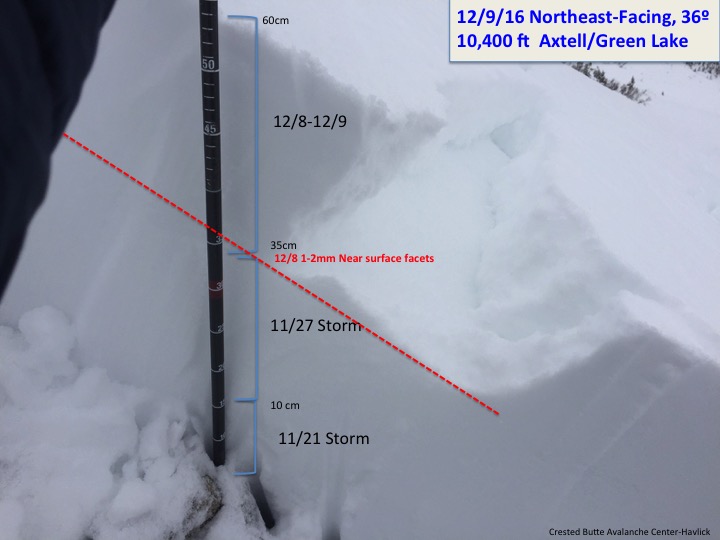 cross section of fracture on slope..