Location: Kebler Pass Area
Date of Observation: 01/17/2016
Name: Zach Guy
Subject: Avalanches at Kebler Pass & Irwin
Aspect: West, Southeast
Elevation: N/BTL
Avalanches: On a SE aspect near treeline, a 2lb handshot triggered a large soft slab, 65 cm deep and ~200 ft wide, that failed in a thin facet layer below the Jan 14th meltfreeze crust.  SS-AE-R2-D2-O.  See profile. Widespread storm slab instability with more than a dozen natural and skier/snow cat triggered soft slabs (Fist hard, 3-10" deep, failing on precip particles) along various aspects of Kebler Pass Road and on Irwin terrain. Minor propagation decreased through the day (max 60 feet wide, avg 20-30 ft), and easily managed, ran more like loose snow avalanches. Harmless in size. SS-ASc/AK/N-R1-D1-S
Weather: Calm to light winds, with moderate gusts from S to W. S-1 to S2 snowfall. Overcast skies.
Snowpack: 18" of very low density snow with minimal wind affect fell last night. On west aspects N/BTL, the storm interface (Jan 14th near-surface facet layer) is ~30" deep in relatively windsheltered terrain; deeper or shallower in wind affected terrain. One pit in an untrafficked area showed the layer is unreactive; size/hardness change was indistinct, with small grained rounding facets at the interface. See profile 1. On SE aspects near treeline, the slab was 26″ deep, but denser from wind effects, over reactive crust/facet/crust sandwiches. See profile 2 and avalanche ob.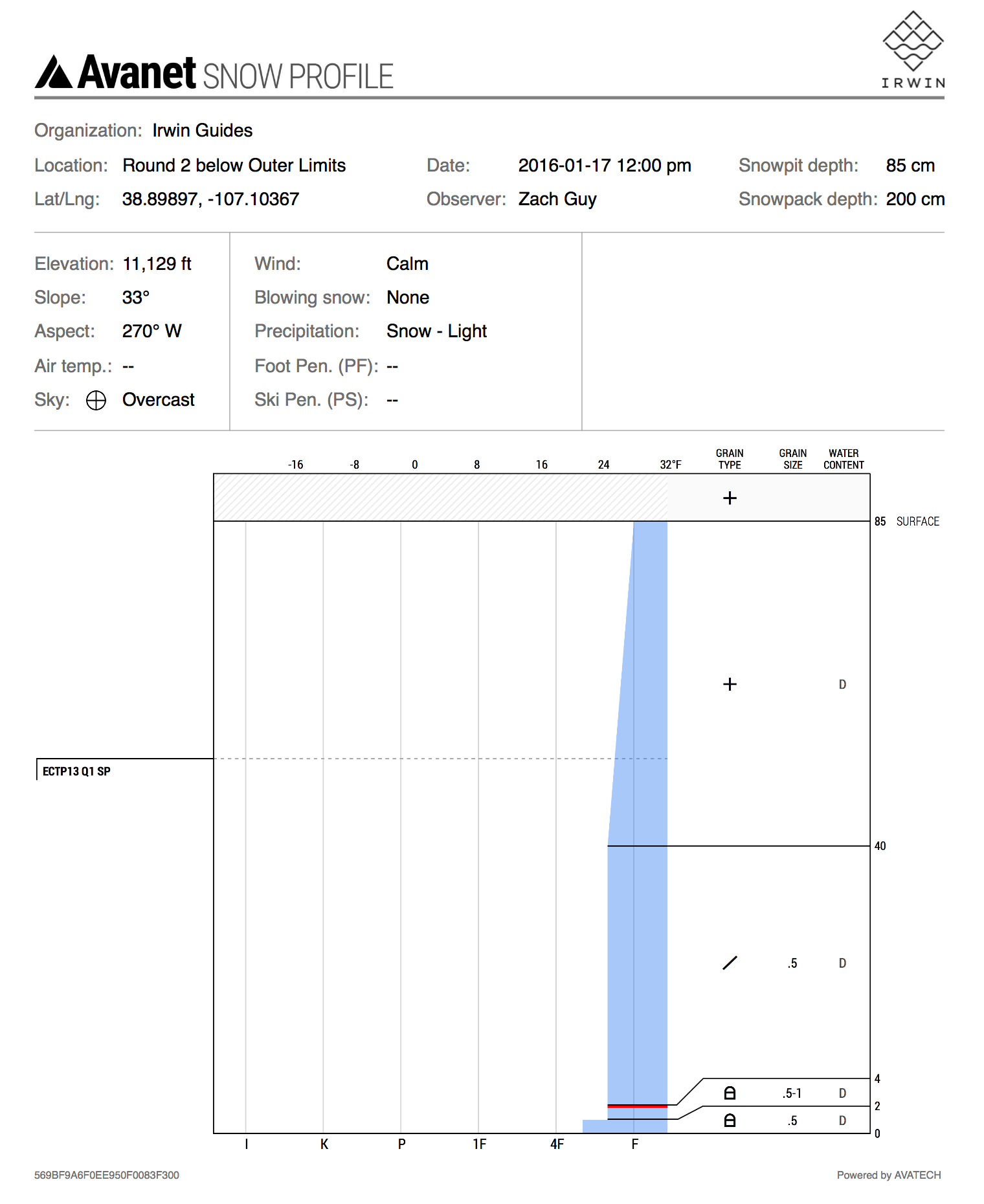 U
pper snowpack on a west aspect near treeline