CBAC Forecaster Zach Guy.
In the past few weeks, I've seen streams emerge from high elevation basins, sunny slopes melt back to complete dirt, and a migration of locals towards the desert for mountain biking or sun bathing. I've only lived in Crested Butte for four years, but this pattern seems so absurd for a high Rockies mountain town at 9,000 feet in elevation, that I dug into some historical weather to see how unusual this weather has been.
Since the New Year, we've been plagued by both snowfall drought and unseasonably warm temperatures. The temperatures have been the greatest anomaly this winter. billy barr in nearby Gothic has an exceptional record of temperatures and snowfall dating back to 1974 (www.gothicwx.org). As of Friday, February 12th, 17 out of our 43 days this year have seen record-breaking high temperatures. There have only been two days in February that didn't break a temperature record, and we are currently going on 8 days in a row of record high temps. I expect the next two days will break records too. On February 6th, the temperature hit 52 degrees F, which was a full month earlier than we've ever seen temps reach into the 50's. I think my brother in Florida is having a colder winter right now.
Looking towards Red Lady Bowl and some dirt slopes down lower. Last year on this date, I dug a pit on a similar slope as that dirt slope in the foreground and found a 2 meter deep snowpack.
Snowfall droughts this time of year aren't quite as unusual as the temperatures we've seen. I looked at both Gothic snowfall and records from the town of Crested Butte, which date back to 1962. (http://www.crestedbutte-co.gov) In Crested Butte, where the average snowfall in January is 41.6", we got 10.6" of snow last month. There have only been four other January's that saw less snowfall in the past 52 years. February is off to a rough start as well, with only a few inches. If it makes you feel any better, the winter of '76-'77 only saw a total of 3" of snow from December through February in Crested Butte. Too bad they didn't have fat bikes back then. Gothic has fared marginally better on snowfall. They saw 27" in January, which is 41% of average and the 8th lowest January on record. Gothic picked up 6" in February, which is on pace to come up at 21% of the 70" average for February. Thanks to a healthy November and December, Schofield Pass SNOTEL is sitting at 67% of mean (3rd lowest snowpack in its 30 year record), and the Mt. Crested Butte SNOTEL is at 80% of its mean.
As someone who loves the winter, I can't help but feel gloomy over the past couple months. However, models keep hinting at a pattern change coming later this month or in March, for the warm and dry high pressure ridge to shift west and put us back into the storm track. We'll see… And also worth noting, the horrible snow year of '76 to '77, which was the lowest on record at 61" in Crested Butte, was followed the next winter by the highest snowfall on record, at 381". I'll stick around next winter to see what happens!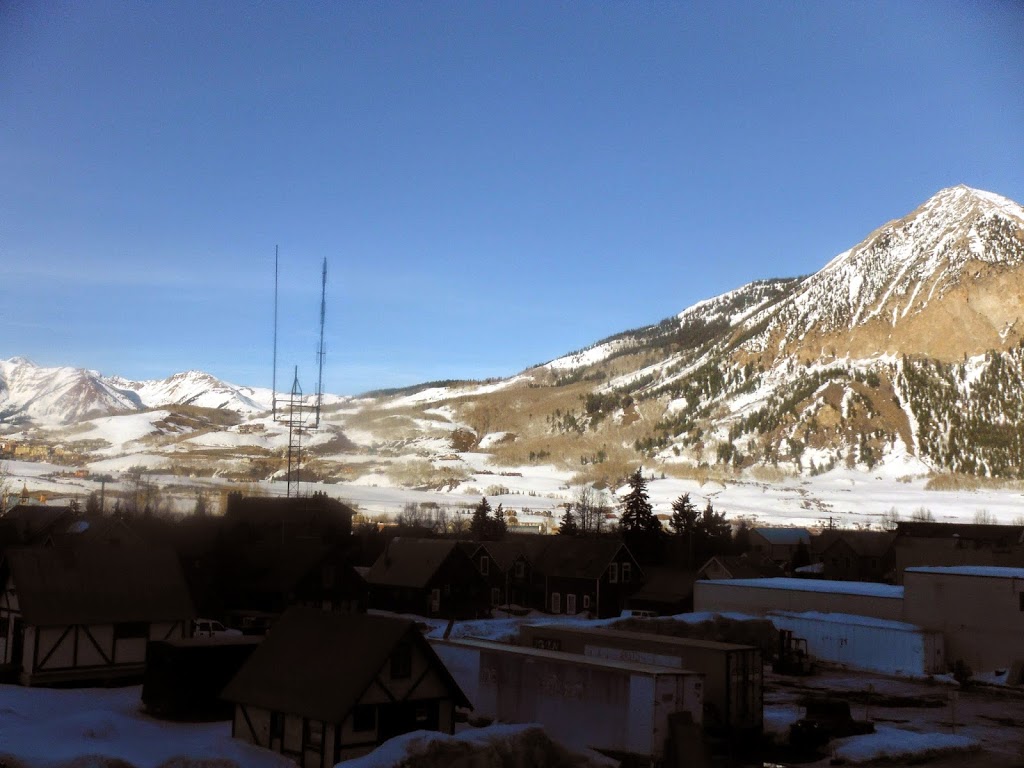 Looking towards Mt. Crested Butte. Looks more like late April than early February.