Location: Paradise Divide Area
Date of Observation: 02/26/2017
Name: Ian Havlick
Subject: Mount Baldy
Aspect: East, South, South West
Elevation: 9200-12600
Avalanches: Fresh, 2-4 foot deep windslab, naturally failing this morning on E-facing, Purple Ridge. Wide propagation, ~150ft wide? 11,600ft. D2.
Another smaller natural windslab failure on Schuykill Ridgeline, D1.
Weather: Scattered clouds, building mid day. NW winds increased during tour, 20-30 G40. Temperatures were cold, wildchills bitter. Temp on car at TH at 1000 was 2ºF. No precipitation.
Snowpack: Snow from last 3 days ranged from 6-36″ deep, heavily wind effected above treeline. Most terrain above treeline where I travelled was stripped clean to suncrusts and slick windboard. In lee and crossloaded sides of bowls and gullies the new snow was drifted up to 3ft deep.
Concerning Crust/facet/crust sandwich on all southerly slopes I travelled today, with numerous large collapses on 20-30º S-SW facing slopes. Dug two pits, revealed solid crust, 2-3mm facets, then another, more friable, fragile crust above holding the well bonded new snow. ECP6 SP on pit dug on steep, loaded bowl on Baldy. Needs more load, but could produce widely propagating slides in future.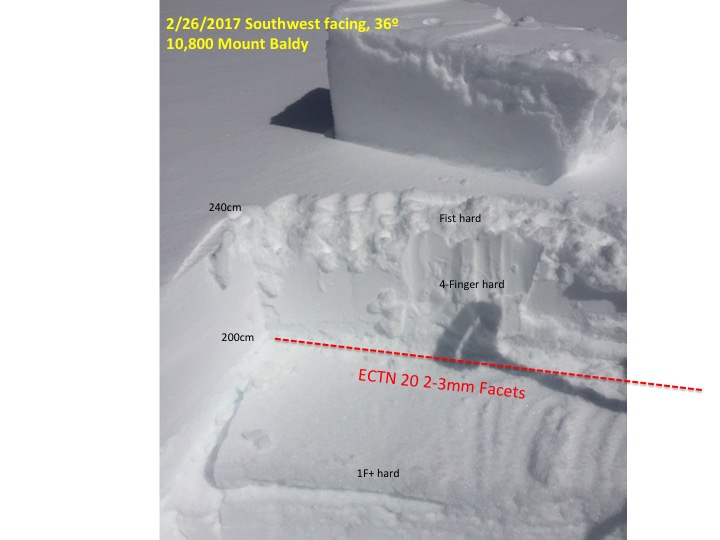 Slide46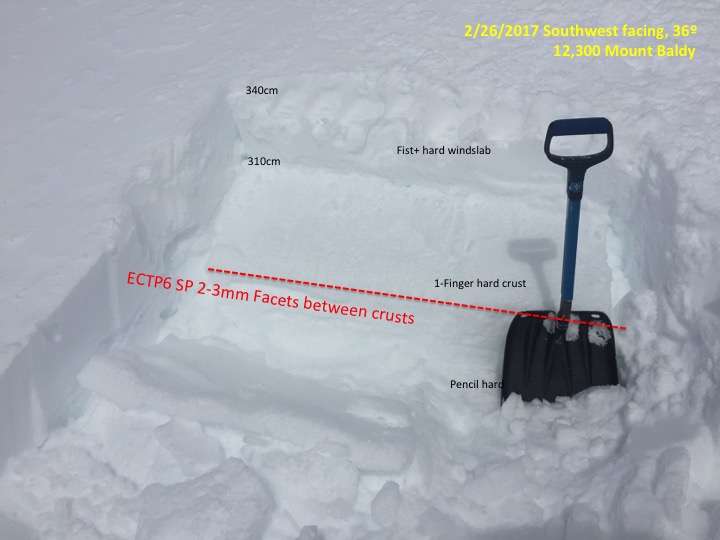 Slide45
FullSizeRender-4